Continue using PressReader after you leave the library
PressReader offsite access to the platform, courtesy of the library or institution. This concept is much like borrowing a library book. Members of your library can use PressReader after leaving the premise for a predetermined period of time. Usually for 24 hours before they need to reauthenticate again. While at the library however, they can use this service (like read a book) for as long as they prefer.
How this works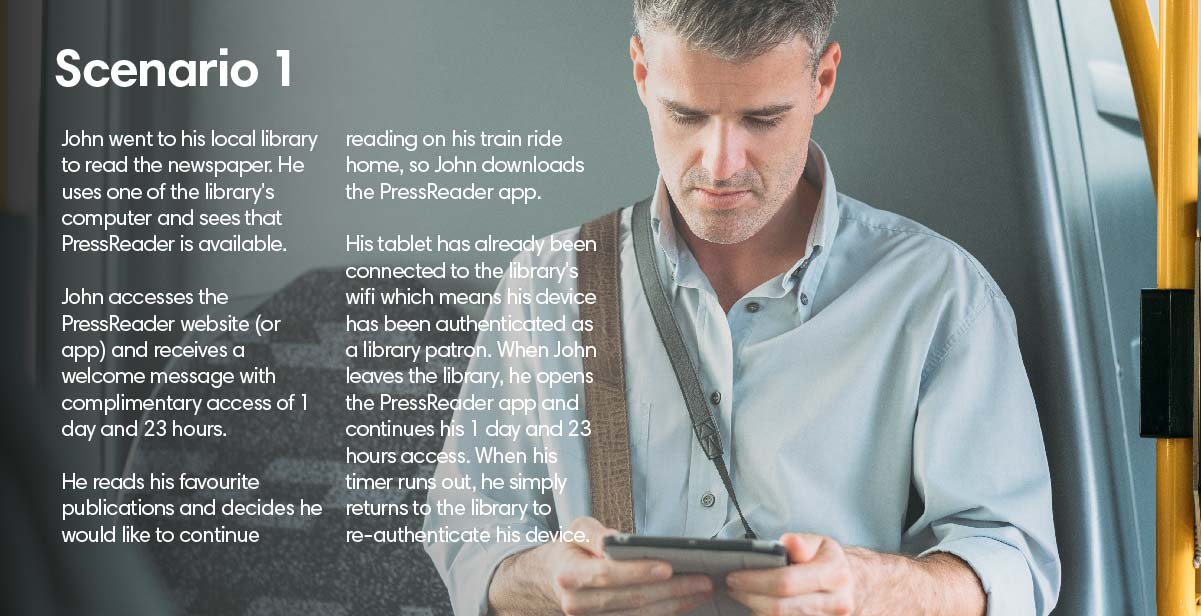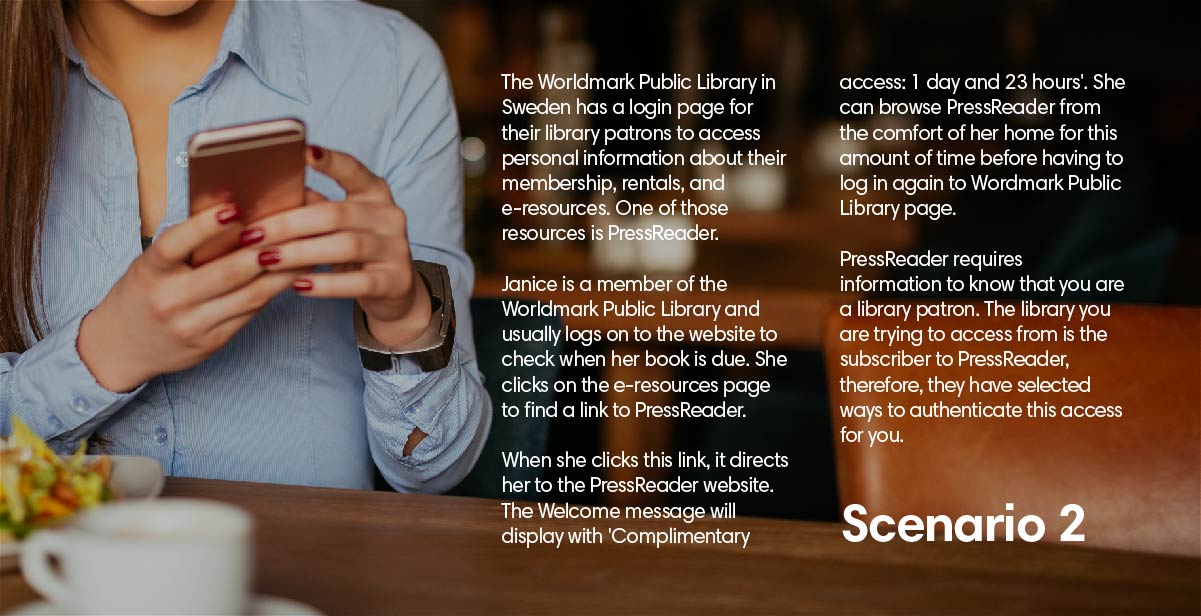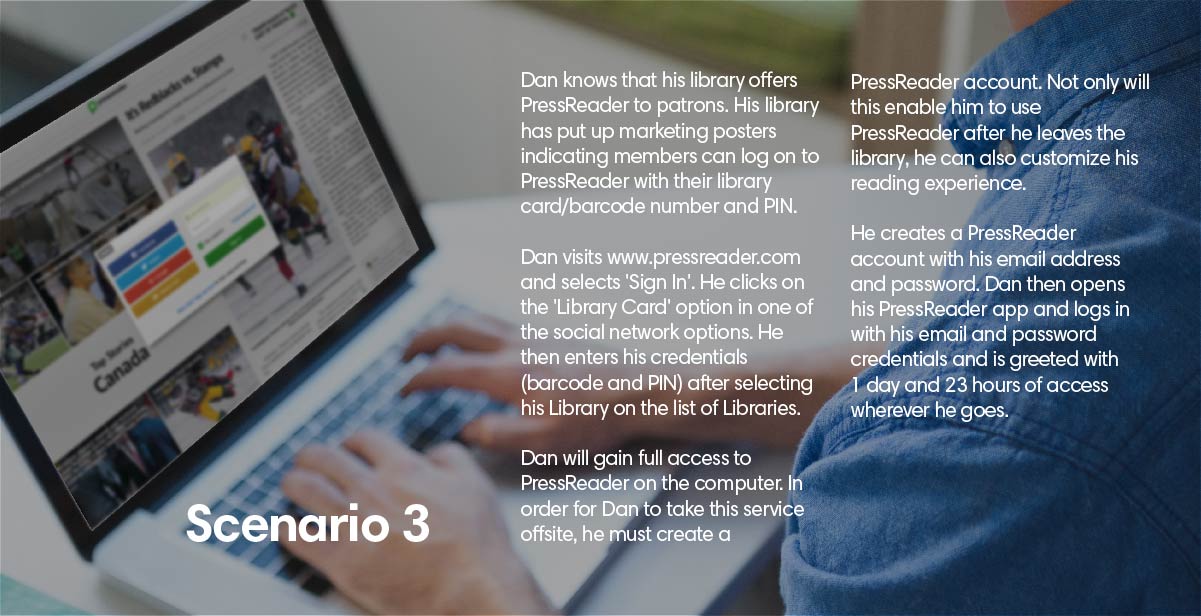 For more information on our authentication methods, please click here.
Request Titles
If you don't see a specific title (click here for search tips ), then you can request it from our team by completing the form below.
What's your name?

What's your email address?

What library are you from?

What title(s) would you like to request?

Publication type:
Magazine Newspaper
Language:
Missing Titles & Issues
Missing titles and issues may occur for a number of reasons.
1. The publisher does not publish on a specific day of the week.
For example, Times Colonist newspaper does not publish on Mondays. This trend is evident on the publication calendar.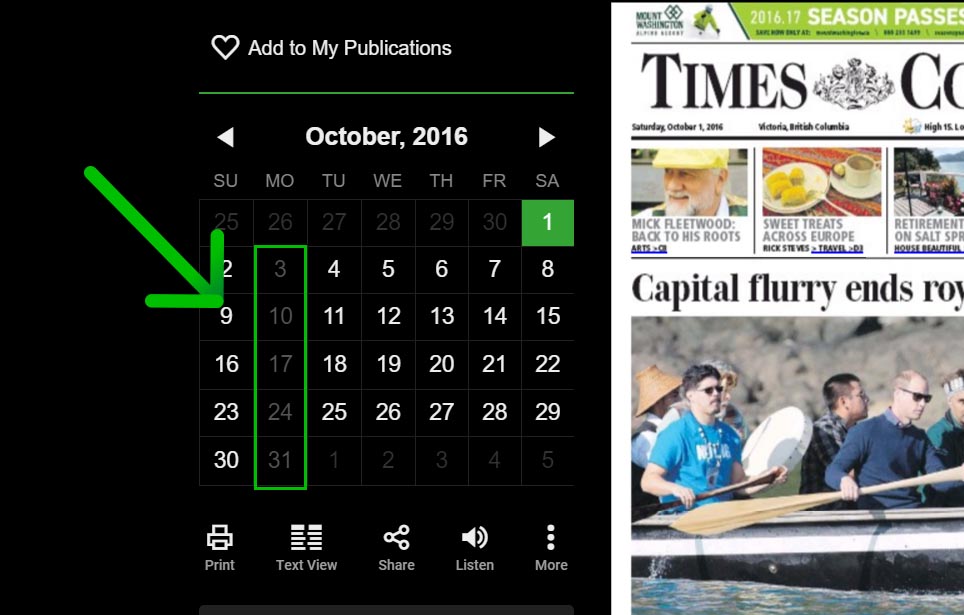 2. The title is restricted for your library or region. PressReader does not control distribution of publications. It is up to the publisher or institution to determine if they would like to restrict specific titles to various locations or audiences. This may be due to sensitivity of a title's content or simply does not align with a publisher's distribution strategy.
Back Issues
Depending on your PressReader subscription, libraries and institutions have 90 days of back issues. There are however, restrictions that are set by specific publishers on how long they would like to make issues available. PressReader provides a premium account with up to 1 year of back issues. To upgrade your library subscription, please contact your sales agent.
Clear browser cache and cookies
In most computer-based web browsers, to open menus used to clear your cache, cookies, and history, press Ctrl-Shift-Delete (Windows) or Command-Shift-Delete (Mac). If this doesn't work, follow the appropriate instructions below.
Chrome
In the address bar, enter:

  chrome://settings/clearBrowserData

Select the following:

From the Obliterate the following items from: drop-down menu, you can choose the period of time for which you want to clear cached information. To clear your entire cache, select the beginning of time.

Click
.
Exit/quit all browser windows and re-open the browser.
Firefox
From the

If the menu bar is hidden, press Alt to make it visible.

menu, select .
From the
drop-down menu, select the desired range; to clear your entire cache, select .
Next to "Details", click the down arrow to choose which elements of the history to clear; to clear your entire cache, select all items.
Click
.
Exit/quit all browser windows and re-open the browser.
Internet Explorer 9 and higher
Select

If the menu bar is hidden, press Alt to make it visible.

(via Gear Icon) > > .
Deselect
, and select:
Click
. You will see a confirmation at the bottom of the window when the process is complete.
Exit/quit all browser windows and re-open the browser.
Customize Welcome Message
PressReader welcome message is the first thing guests will be greeted with once they connect to your HotSpot. You can tailor this message to feature any upcoming events, announcements, or introduce their sponsored access to PressReader.
To customize your welcome message,
1. Log in to PressReader HUB
2. Select 'HotSpot - Notifications'
Ensure 'Enable notifications' is checked.
Locale default set to 'Neutral'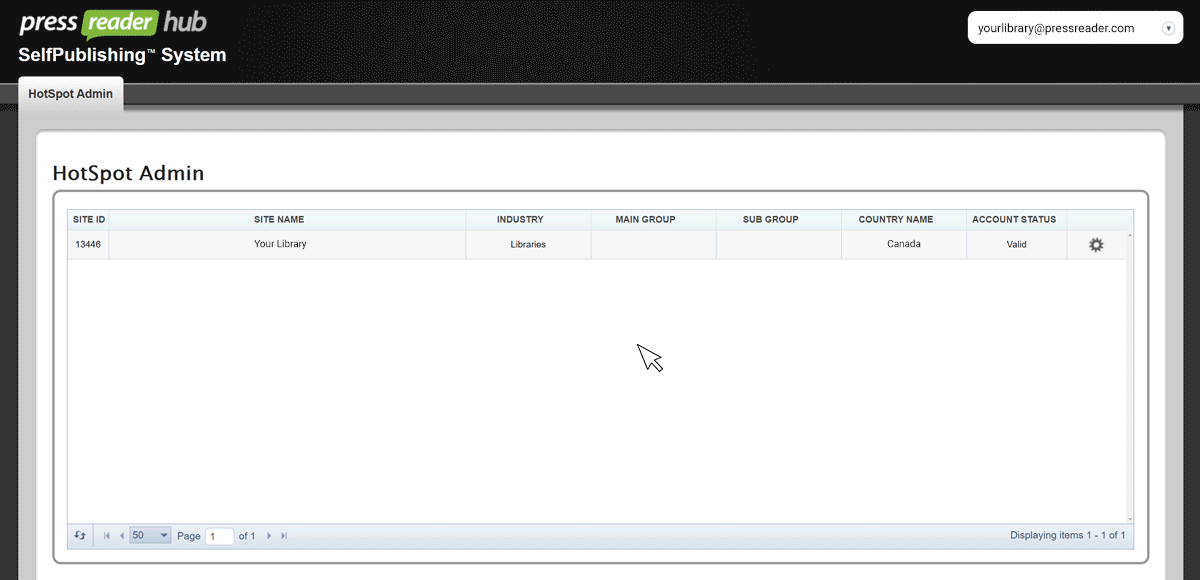 The mandatory fields are: Welcome Message Title and Download Message. You can also upload a logo, image file (JPEG, PNG) no larger than 500x500 pixels. Here are some suggested messages you can use.
Welcome to [Library]. Read or download your favourite titles via PressReader.
Enjoy unlimited access to PressReader at [Library]. If you wish to take PressReader on the go, download the app and connect to our wifi network for 24 hours extended access.
Courtesy of our [Library], enjoy 24 hours gifted access to PressReader. Read and download your favourite publications to PressReader mobile application.
You have successful connected to [Library]'s PressReader subscription. Enjoy unlimited access or 24 hours offsite access before signing in again.