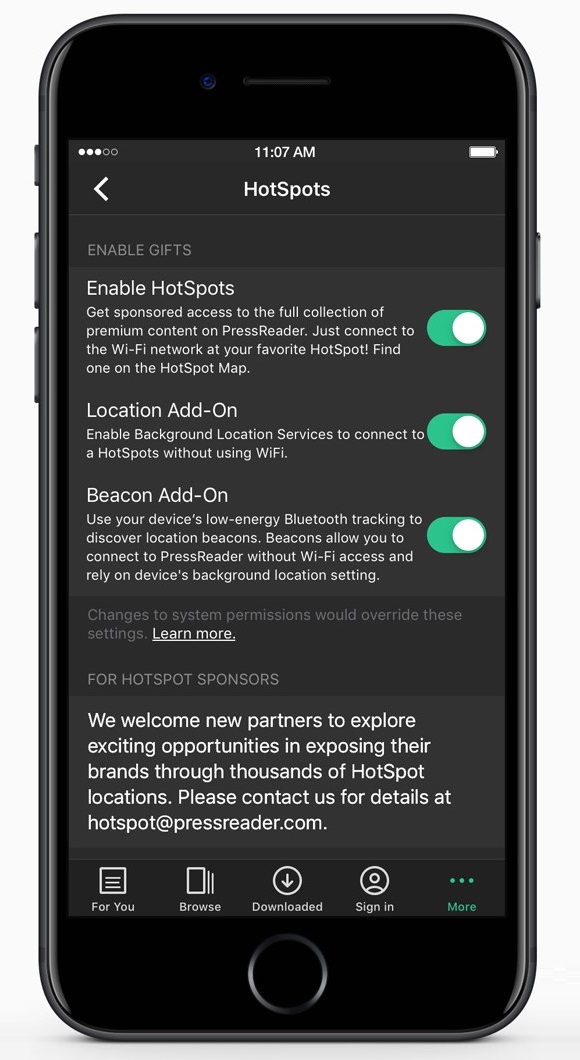 If you didn't enable gifts right away when you first installed PressReader, you can do it at any time in the app settings. (You'll find it in the main menu under Settings > HotSpots.) Just swipe the toggles on and follow the prompts in your device settings.
First, you'll see a setting to Enable HotSpots. This will allow you to receive gifts from our HotSpot partners once you've connected to their WiFi network.
Next, you'll see Location Add-On. This will prompt you to turn on Location Services in your device settings. Your location will be used to grant sponsored access to PressReader, whether you've connected to a WiFi network or not.
Be sure to turn on Notifications for PressReader in your device settings as well. When you do, the app will let you know as soon as you've entered a sponsored area.
The last Beacon Add-On setting will allow your device to detect location-based gifts with Bluetooth. You'll need to turn on the Location Add-On as well in order to connect to Beacons.
That's it! When PressReader sends you a notification, you'll immediately be able to choose from more than 7,000 titles in the catalog. Download your selections to your device and start reading right away, or save them for later reading offline.
Curious to see whether there are any partners near you? Visit the HotSpot Map in the app to browse current locations, and remember - we're adding new partners every day! If you've turned on gifts and notifications, we'll be able to let you know as soon as you enter newly sponsored locations.
Happy reading!
The PressReader Care Team