Turn on automatic download of your favorite titles
You can choose up to five of your favorite titles to be automatically downloaded to your device. Here's how to turn them on:
Open the Publications page
Search for the (UK) Times Newspaper
Tap on the name of the newspaper - very specifically where the name appears in the grey bar.
This will take you to the order screen where you can swipe the toggle shown below to turn on auto-download.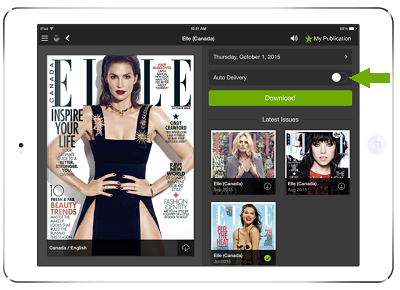 Send a title to a specific device
Accessing your favorite newspapers and magazines on the go is easy with the PressReader app for iOS, Android, Windows 8, and Blackberry tablets and smartphones. 
If you already have the PressReader app installed and authorized on a mobile device, you can download any issue from PressReader.com to it by clicking on the app button at the bottom of the publication page.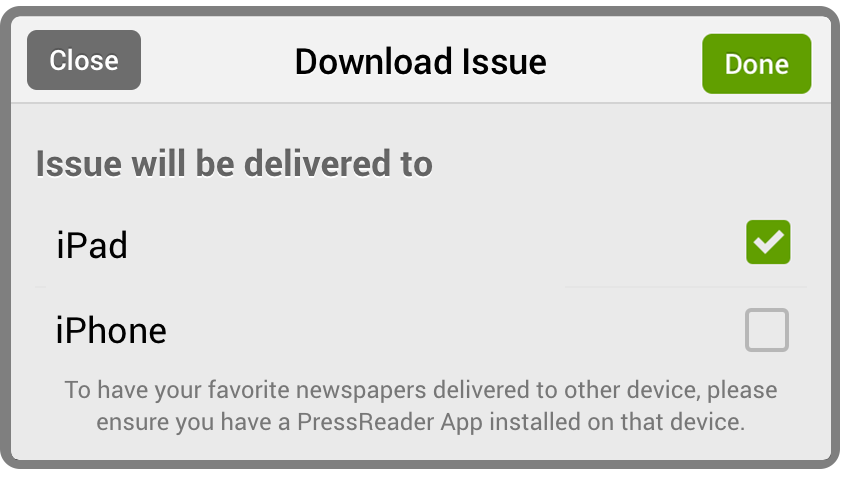 Managing your devices
The exact number will depend on your subscription type, but you can have several authorized devices on your account at a time. If you have logged in to your account on several devices, you might encounter the error message "Too many activations".
Here's how to remove older devices from your account:
Login to www.PressReader.com
Click on your name at the top right and select "Manage Account"
Scroll down the page to the last section called "PressReader Installations"
Click to "Manage" older devices and select "Deauthorize" for any that you no longer use.
That's it! If you deauthorize any device accidentally, you'll just need to sign in once more when you open PressReader.