Login to PressReader HUB 
To view your PressReader analytics, you must use the email address and password created for your library account. If you are unsure of your credentials, please contact libraries@pressreader.com.
1. Visit https://hub.pressreader.com
2. Log on with your PressReader username and password.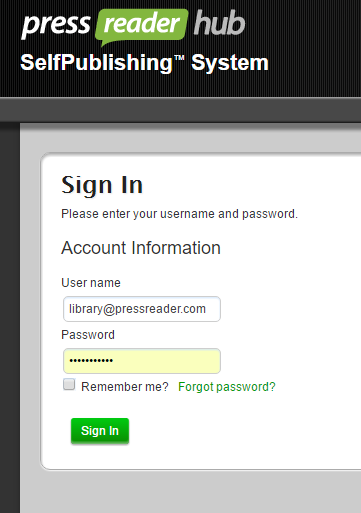 View PressReader Analytics
Select your account by clicking the 'edit' button on the right.
To view analytics, simply select 'Statistics - Analytics' in the left column. Toggle between Articles Read, Issues Read, HotSpot Connections, and Titles Read by selecting hour, day, or month for desired information.
The numbers for Articles Read, Issues Read, and HotSpot Connections located at the top are statistics for the last 24 hours.
What do the reports mean?

Articles Read
Articles read is the number of articles read in an issue on both the PressReader App and website.
When an issue is open, you have access to all articles within. As a reader, you can browse the entire issue or part of it however, only articles in Text View are accounted for. If you decide to use the Page View option and zoom in on articles without clicking on specific headlines, there is no analytic way to track this as 'Articles Read' in statistics.  
This is a good indicator of how much content is being consumed by users when issues are opened.
Issues Read
Issues read indicates the number of publications consumed from both PressReader App and website. In order to have an issue recorded as read, the issue needs to be fully downloaded. This can be accessed through the 'Publications' tab on the web platform, or by downloading the issue on the mobile app. 
HotSpot Connections
HotSpot connections is equivalent to the number of sessions (timeout is 10 minutes by default) generated at a PressReader HotSpot.
When a PressReader Hotspot is detected from PressReader Application or website, a session is created with a unique ID. These sessions are grouped by Hotspot in our back end database. One HotSpot User (unique ID) can access the HotSpot multiple times.
This statistics is a good indicator of how frequently PressReader was accessed during a period of time.
Titles read
This list shows the top titles opened (downloaded and read) in a Hotspot.
The analytics provide, name of titles with an issue date, number of User Count and number of Issue Count ranked by number of Issue Count.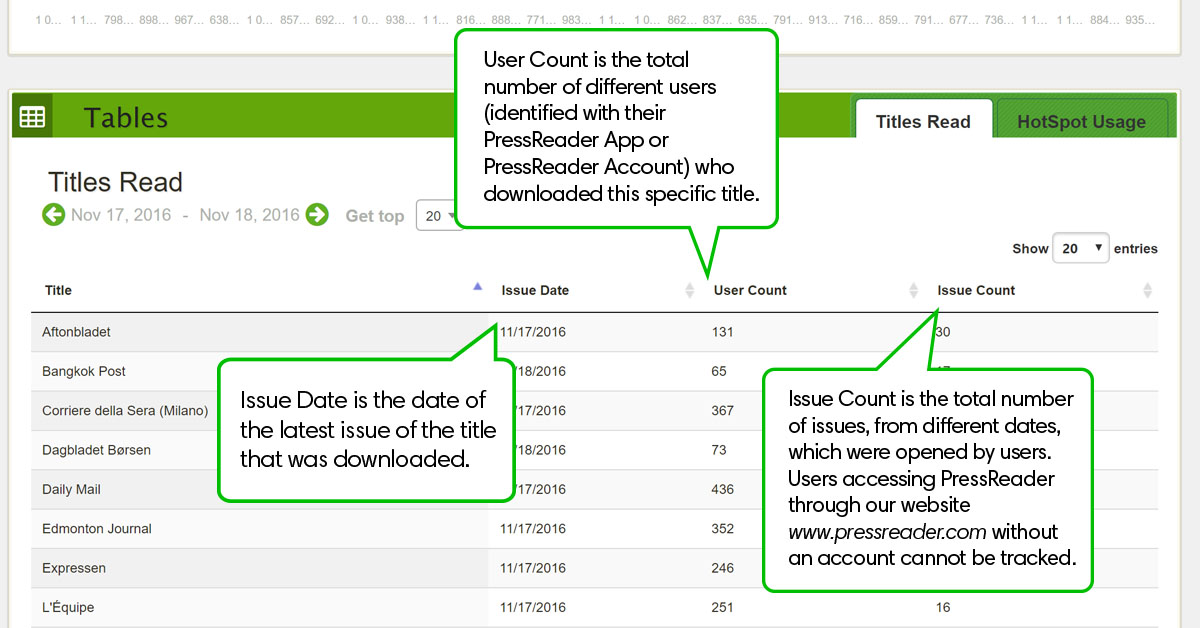 This analytic is a good indicator of which titles are read by users.
*Note: Only titles with HTML content can be tracked
Download Reports
To download reports, go to the bottom part of the page.
Toggle between the tabs menu to select reports for HotSpot Usage, Ttitles Read, HotSpot Users, Articles Read and HotSpot Connections. You can also choose to view analytics by a specific date, month or range.
Once you have selected the desired report, click 'Export Report'.
*Note: Reports are downloaded in default CVS file and are not compatible with Internet Explorer.
Access Multiple Accounts' Analytics
If you require PressReader analytics for more than one account, please email libraries@pressreader.com indicating the account names.
With a single login, you can view individual account statistics and combined analytics.
This is especially useful for agents, consortium, and libraries with multiple branches (each with their own PressReader account).
1. Log on to PressReader HUB at http://hub.pressreader.com
2. Select 'HotSpot Analytics' tab to view combined analytics